REQUEST FOR PROPOSAL
The City of Weeping Water is currently accepting proposals for "Camp Hosts" at the Weeping Water City Lakes Campground for the upcoming year. Applicants must be available to monitor the Camp Ground every weekend and provide minimal maintenance in exchange for free camping. A complete list of responsibilities is available at the City Clerk's Office.
All interested applicants may submit a proposal to the City Clerk's Office, PO Box 329, Weeping Water, NE 68463 by 2:00 p.m., February 2, 2017.
The City reserves the right to reject any and all proposals submitted and to request additional information from all proposers.
Linda Fleming
City Clerk
-------------------------
---------------------
---------------------------
Slattery Vintage Estates recently ranked the most unique bed and breakfast in Nebraska!
Our Unique Bed and Breakfast in
Nebraska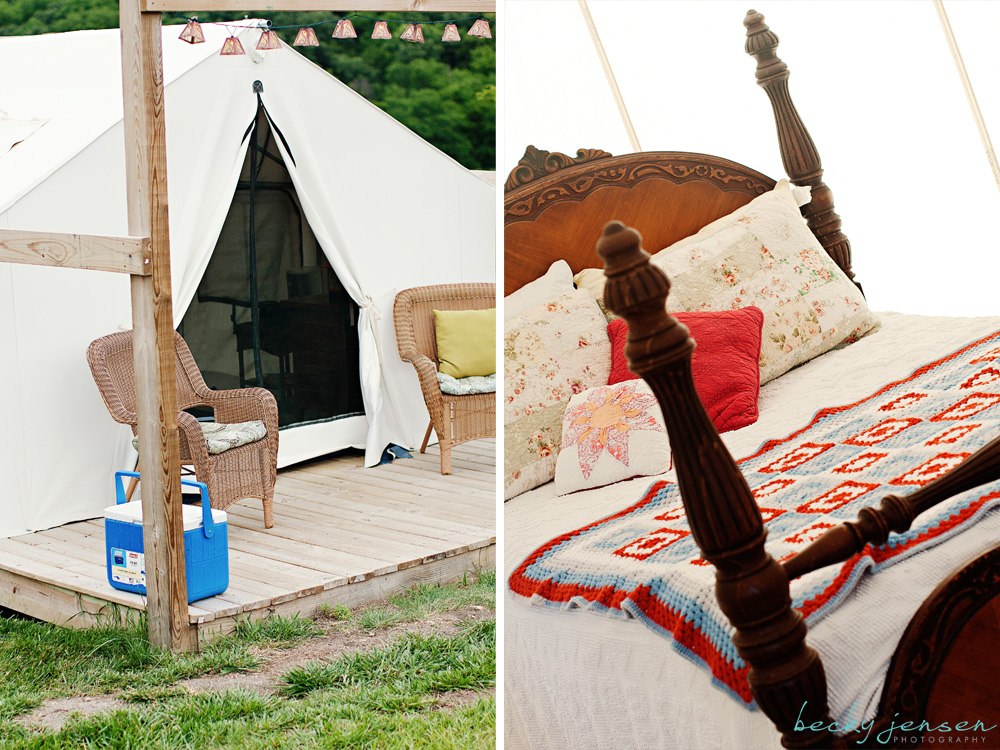 Spend the day touring a working vineyard and winery, sampling different vintages in the tasting room, enjoy a cheese plate and catch some live music in the courtyard at Slattery Vintage Estates in Nebraska. Don't bother calling an Uber when you're ready to call it quits- you can spend the night on the grounds in the estate's unique outdoor bed and breakfast. Slattery bills itself as the "original glamping destination in the Midwest." Each elevated tent is furnished with antiques in prairie-elegant fashion, and has a small porch strung with lights, for a charming effect in the evening. It's hard to picture a better destination for couples, and the company website's many photos of proposals made on the grounds attest to the romantic vibe. Each tent in the bed and breakfast has its own fire pit, and guests can purchase not only wine from the estate, but also foil dinners to cook over the fire or even s'mores. Pairing local wine with marshmallows by the campfire with your significant other? We're willing to bet you won't forget this unique glamping experience.
Rates: $60 to $90 per night
Location: Nehawka, Nebraska
At a Glance: a glamping bed and breakfast on a vineyard in Nebraska
--------------------------
Audition Dates Announced at the Lofte Theatre
Show

Audition Dates

Production Dates

The Odd Couple

Feb 26 & 27

April 6-15

The Miracle Worker

April 16 & 17

June 1-10

OLIVER!

June 3

, 4 & 5

July 21-Aug 5

Hilda's Yard

July 30 & 31

Sept. 7-16

Guys On Ice

Sept. 10 & 11

Oct. 13-28

Nuncrackers

Oct. 22 & 23

Dec. 1-16
Sunday, February 25 @ 2pm
It's a cross between a family reunion and the Oscars. It's time once again for the Lofte's Annual Meeting & Volunteer Recognition!
Mark your calendars for
Sunday, February 25 at 2pm.
Desserts and refreshments will be provided.
Outstanding volunteers will be recognized with a NEW CAR! (Ok, it's a trophy. I was just seeing if you were paying attention.)
Once the official business meeting is completed, Artistic Director Kevin Colbert will lead us on a journey through the crazy fun that was 2017! Then he will give us a preview of what's in store for 2018.
This is a casual event and we welcome you to bring your friends and families. The more the merrier!


-------------------------
Annual Fun Events at the Neighbors:
Avoca's Quack Off January 27th, Registration is at 10a and races begin at 1p. Hope to see you there!


Unadilla's 30th Groundhog Day is nearly here!
Feb 2 Unadilla Bill's Breakfast & other festivities
Feb 3 Groundhog Day Celebration
Chris Sayres Musical presentation 10:30 a.m.
Parade starts at 2:00 p.m.
--------------------------------
-------------------------------
---------------------------------
-------------------------
Immediate Job Openings at The Nebraska Masonic Home
Immediate Job Openings
Assisted Living
Nursing Care Facility
Seeks caring, devoted individuals.
We have competitive wages & excellent benefits!
PT RN or LPN
,

6 pm – 6 am
Weekends Only CNA's
, All Shifts
PT Dietary Assistants
,

1-8:30 pm
Free single coverage medical, dental, vision; PayFlex; 401K Plan;
Educational Assistance, Competitive Wages
& Superior Working Environment
The Nebraska Masonic Home
Must pass pre-employment physical, drug test, and background checks.
-----------------------
------------------------
-------------------------


-------------------------
Support Our Neighbors
Click to Read todays SpringfieldNebraska Newsletter
Click to Read todays PlattsmouthNebraska Newsletter
Click to Read todays WeepingWaterNebraska Newsletter
Click to Read todays GreenwoodNebraska Newsletter
Click to Read todays NehawkaNebraska Newsletter
Click to Read todays CedarCreekNebraska Newsletter
Click to Read todays AvocaNebraska Newsletter
Click to Read todays ElmwoodNebraska Newsletter
Click to Read todays MurdockNebraska Newsletter
Click to Read todays LouisvilleNebraska Newsletter
Click to Read todays EagleNebraska Newsletter
Click to Read todays MurrayNebraska Newsletter
Click to Read todays UnadillaNebraska Newsletter
Click to Read todays UnionNebraska Newsletter
Click to Read todays AlvoNebraska Newsletter
Click to Read todays ManleyNebraska Newsletter
---